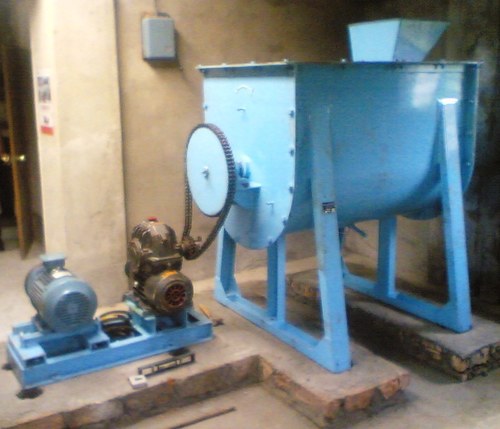 Ribbon Mixer Machine
Product Description
The Ribbon Mixer machine is used for through mixing of different type of Dry CPC material continuously. A Mild Steel 'U' shaped barrel fitted with M.S. Flange at the both end, mounted on stands. A shaft is holding a number of M.S. ribbons, in the form of a spiral propeller passes through the flanges. The Ribbon Mixer is continuous mixing and delivery type. There is a Feeding Chute at the top of the "U" Barrel for charging the material and at the bottom of the other end a discharging spout is fitted for discharging the material continuously. There are replaceable Triscal plate lining inside the "U" Barrel to avoid the corrosion. The mixer is driven by Chain, Sprocket, Reduction gearbox and Motor. A delivery gate having an adjustable lid, fitted at the bottom of the barrel. A special designed discharging Chute is fitted at the discharging end of the "U" Barrel for easy bagging of the material.
SPECIFICATION

TUB SIZE

2200 mm. Dia X 2300 mm. Height X 4000 mm. Long

CAPACITY

10 MT / Hr. continuous type

MILL SPEED

16 – 18 R.P.M.

MOTOR

75 H.P. 1000 R.P.M. Sq. Cage, T.E.F.C.

DRIVE

Motor drives the worm reduction Gear Box through V-Pulley and Mill will be directly coupled with Gear Box output shaft.
Contact Us
No.2, R. N. Tagore Road, Between Dunlop & Dakhineshwar, Kolkata, West Bengal, 700076, India
Phone :91-33-25443898/25632032