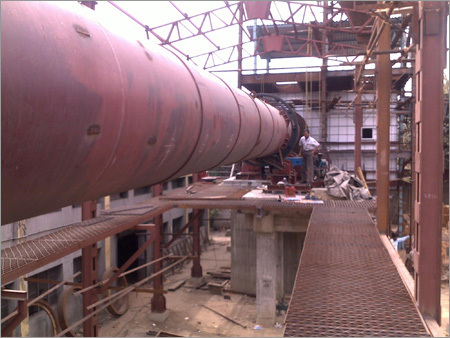 Rotary Kilns
Product Description
With a strongest desire to provide best products to the clients across the international market, we have become a conspicuous manufacturer, supplier and exporter of Rotary Kilns. We manufacture these products using basic raw materials such as cement, lime, refractories and alumina. Owing to our widespread network of transportation and sound logistic facility, we are able to deliver this Rotary Kilns at clients' destination within estimated time frame.

Features:


Low thermal conductivity
Rugged construction
Low energy consumption
Eco-friendly
Other details:

Surya Rotary Kiln is used for calcination of different type of materials at required Temperature. The Shell is made of thick B.Q. Plate as per IS 2002 Gr. B or of equivalent quality electrically welded. Cylindrical type, tyres are fixed on the Kiln which rotates on 4 Nos. Rollers fixed on the shafts, placed on Phosphorus Bronze Bearings in water cooled bearing blocks. The shell of the kin is rolled to maximum tolerance with high precision & is sufficiently strong to accept reasonable overloads and thermal stresses. At the feeding end of the Shell, a Conical shell made of B.Q. Plate is fixed for easy flow of Flue. Thrusters are set perpendicularly to the face of the tyres. to prevent the kiln from moving uphill or downhill. A Girth gear is fitted on the shell and the Pinion is fitted with the 3 stage Helical Gear Box. The Driving shaft rotates through Chain. Sprocket and power is transmitted by the Motor. The motor is fitted with Gear Box through a Heavy duty Resilient Spring Grid Coupling.
Technical Specification

SIZE OF THE SHELL

2.1 M I.D. X 18 M Long.(Without Lining)

INPUT OF MATERIAL

Crome Ore

SHELL SLOPE

1/2" Per Feet.

FUEL

LDO / FURNASE OIL

OPERATING TEMPERATURE

10500 C-11000 C

MILL SPEED

0.6 – 1 R.P.M.

MOTOR RECOMMENDED

15 H.P. 720 R.P.M. Sq. Cage T.E.F.C

We are manufacturing all Of standard make ROTARY KILN
Contact Us
No.2, R. N. Tagore Road, Between Dunlop & Dakhineshwar, Kolkata, West Bengal, 700076, India
Phone :91-33-25443898/25632032